Rating:
4.6

based on

68

votes
Rate it:
Aqua Castles Screensaver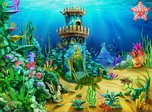 FullScreensavers is pleased to present new colorful screensaver of the underwater world. It will surely attract the attention of all underwater kingdom lovers. Here you will find beautiful corals and underwater algae, various fish, dolphins, sea turtles, starfish, jellyfish, crabs and other inhabitants of the underwater world at the background of beautiful castles. You will also find the famous "Yellow Submarine" from the hits of Beatles group. Download and install free aqua screensaver of the three stages with digital clock and go away from your problems! Immerse yourself in the deep ocean with a splash Aqua Castles. It is wonderful and exciting underwater adventure, soothing and uplifting your spirits.
Features
Impressive quality
Flexible screensaver settings
Multiscenes screensaver
Natural and realistic characters and water effects
Analog clock
Fits any screen resolution
For any Windows OS
Absolutely free aqua screensaver!
System Requirements
Pentium III 800 Mhz or higher
128 Mb Video Memory
20 Mb of free hdd space
Windows 95/98/NT/2000/XP/Vista/7/8/10
Aqua Castles Screenshots (Click screenshot to enlarge)
Aqua Castles Video (Click video to play)
File size: 57.45 Mb
Top Screensavers
Recommended Screensavers
Screensavers Categories. Browse and Download Free Screensavers