Rating:
4.6

based on

49

votes
Rate it:
Pendulum Clock 3D Screensaver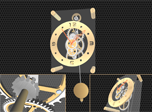 Realistic and unique Pendulum Clock 3D screensaver will impress everyone who likes screensavers, clocks and 3D effects. You will see analog clock mechanism from three different points of view. It is really working clock model with pendulum motion and yoke switching seconds. 12 gears made of copper and steel are rotating with hook. Clock face is gold with cutted numbers. Clock body is made of glass - to let everyone see its mechanism. Each gear has its own number of tooth to make clock show correct time. Interesting background design is not annoying, light effects are smooth, colors are gold, red and grey. Hour, minute and second clock hands will show you exact time. We hope you will appreciate balance of this free 3D screensaver. Surprise your friends, co-workers, relatives and kids with your PC desktop decoration. Do not hurry, feel the time, meditate with Pendulum Clock 3D Screensaver! It is compatible with any screen resolution and any screen ratio.
Features
12 gears types
Copper, steel, glass materials
3 point of views
Light effects
Sound effects
Fits any screen resolution
Compact size and fast installation
Absolutely free 3D clock screensaver!
System Requirements
Pentium III 900 Mhz or higher
512 Mb Video Memory
50 Mb of free hdd space
Windows Vista/7/8/10
OpenGL 3.0+
Pendulum Clock 3D Screenshots (Click screenshot to enlarge)
Pendulum Clock 3D Video (Click video to play)
File size: 3.5 Mb
Top Screensavers
Recommended Screensavers
Screensavers Categories. Browse and Download Free Screensavers