Rating:
4.4

based on

87

votes
Rate it:
Seasonal Clocks Screensaver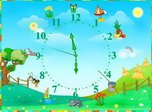 Install this remarkable screensaver devoted to analog clock and make a wonderful trip through four seasons of the year. You will have no need to leave your house to observe summer, autumn, winter and spring! Winter scene with Christmas characters goes smoothly to spring scenery: green grass and melting snow. In the next scene you'll enjoy summer: flowers, butterflies and bright sun. And of course our favourite season is autumn with it's falling leaves and unique red and yellow colors. Exclusive analog clock is in the center of each scene. Great number of animated characters surely will please you. Download free clock screensaver - Seasonal Clocks!
Features
Impressive quality
Four scenes for every season
Flexible screensaver settings
Natural and realistic characters
Nice music
Analog clock
Fits any screen resolution
Absolutely free clock screensaver!
System Requirements
Pentium III 800 Mhz or higher
64 Mb Video Memory
12 Mb of free hdd space
Windows 95/98/NT/2000/XP/Vista/7/8/10
Seasonal Clocks Screenshots (Click screenshot to enlarge)
Seasonal Clocks Video (Click video to play)
File size: 58.11 Mb
Top Screensavers
Recommended Screensavers
Screensavers Categories. Browse and Download Free Screensavers