Rating:
4.3

based on

75

votes
Rate it:
Christmas Snowfall Animated Wallpaper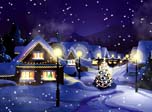 Why do we love Christmas and New Year? These days more than ever we feel the value of the home warmth and comfort. We decorate our house before Christmas, the homes start to sparkle trim the Christmas tree, decorated with bright toys. And every year we are pleased to celebrate Christmas and New Year are waiting for positive change in the new year, hope for the best. Well when you can spend the holidays in the forest, surrounded by the majestic scenery of the winter. However, not all of us use this possibility, but with our animated wallpaper Christmas Snowfall you will always have the opportunity to spend a couple of minutes in the winter forest, even in summer. Download and install free animated wallpaper Christmas Snowfall!
Features
Impressive quality
Christmas holiday effects
Realistic animation
Flexible wallpaper settings
Fits any screen resolution
For any Windows OS
Absolutely free Christmas wallpaper!
System Requirements
Pentium III 900 Mhz or higher
256 Mb Video Memory
25 Mb of free hdd space
Windows 95/98/NT/2000/XP/Vista/7/8/10
Christmas Snowfall Animated Wallpaper Screenshots (Click screenshot to enlarge)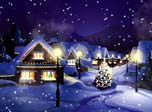 File size: 2.92 Mb
Screensavers Categories. Browse and Download Free Screensavers