Rating:
4.5

based on

75

votes
Rate it:
Easter Rabbits Screensaver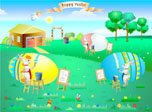 Join in the fun at our animated Easter Rabbits screensavers. First scene will bring you to the funny spring grass in the company of rabbits family. Enjoy swallow fly and clouds at background, sheep pasture, butterflies and dragonflies. Next scene shows you happy rabbits family celebrating Easter at the dinner. Take a look at their happy family! In the last scene lovable Easter bunnies are busy decorating eggs. It is certain to delight you and your family! Very nice Easter music, splendid spring subjects, original funny animated characters create atmosphere of real holiday on your desktop. Happy Easter and may this Holiday be full of joy for all of us!
Features
Impressive quality
Multiscenes screensaver
Easter Melody
Flexible screensaver settings
Funny and realistic animals and insects
Vista compatible
Fits any screen resolution
Absolutely free easter screensaver!
System Requirements
Pentium III 800 Mhz or higher
64 Mb Video Memory
15 Mb of free hdd space
Windows 95/98/NT/2000/XP/Vista/7/8/10
Easter Rabbits Screenshots (Click screenshot to enlarge)
Easter Rabbits Video (Click video to play)
File size: 56.21 Mb
Top Screensavers
Recommended Screensavers
Screensavers Categories. Browse and Download Free Screensavers