Rating:
4.6

based on

98

votes
Rate it:
New Year Fireplace Screensaver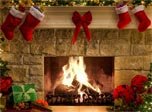 Since ancient times, fire takes a special place in our life: warms, lights, helps to prepare food. We are closely associated with this element, and a craving for open flame inherent in us at the genetic level. Many people would like to have a fireplace at home, but in this modern age the presence of fire in the house is a rarity. You want to have a fireplace at home? But you can not afford it? Our new animated screensaver New Year Fireplace will solve this problem. With our screensaver you will be able to decorate your desktop! Animation is realistic and high-quality. Just a few seconds and fireplace will decorate your home!
Features
Impressive quality
Realistic fireplace animation
Fits any screen resolution
For any Windows OS
Compact size and fast installation
Absolutely free New Year Screensaver!
System Requirements
Pentium III 900 Mhz or higher
256 Mb Video Memory
30 Mb of free hdd space
Windows 95/98/NT/2000/XP/Vista/7/8/10
New Year Fireplace Screenshots (Click screenshot to enlarge)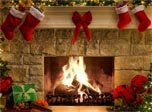 New Year Fireplace Video (Click video to play)
File size: 62.67 Mb
Top Screensavers
Recommended Screensavers
Screensavers Categories. Browse and Download Free Screensavers