Rating:
4.5

based on

102

votes
Rate it:
Spring Charm Screensaver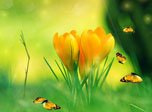 Feel the beauty of spring and summer with our free Spring Charm Screensaver! Introducing our new bright and stylish screensaver for your desktop PC. You will find yourself in a tulips flowerbed with butterflies flying over it. You should install free spring screensaver if you want summer. Transfer to a bright sunny day. Screensaver will be a worthy decoration of your desktop, bring a piece of beauty to your life. This is the summer that will always be with you! All screensavers on our site are completely free. And this screensaver is also free! Download Spring Charm screensaver right now, installation takes just a few seconds!
Features
Impressive quality
Flying butterflies animation
High quality effects
Fits any screen resolution
For any Windows OS
Compact size and fast installation
Absolutely free Spring Screensaver!
System Requirements
Pentium III 900 Mhz or higher
256 Mb Video Memory
30 Mb of free hdd space
Windows 95/98/NT/2000/XP/Vista/7/8/10
Spring Charm Screenshots (Click screenshot to enlarge)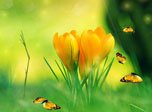 Spring Charm Video (Click video to play)
File size: 3.48 Mb
Top Screensavers
Recommended Screensavers
Screensavers Categories. Browse and Download Free Screensavers