Rating:
4.3

based on

78

votes
Rate it:
Village Idyll Screensaver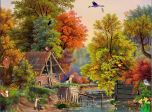 Village Idyll free animated screensaver is not only for lovers of country living. But for all the people who love nature, pets and wildlife. Summer lawn with flowers, butterflies, dragonflies, ponds, autumn landscapes with spectacular riot of colors of autumn probably will like these colorful scenes. Gradually changing each other birds singing and chirping of insects. Screensaver includes 3 scenes, that change each other with great transition effects and analog clock. Excellent animation of "living water", animated characters and wild pets - butterflies, deer, birds, eagles, rodents, swans, cows and horses. They no doubt will decorate your desktop and raise your spirits. Village Idyll with their inhabitants and traced scenes certainly will help you to relax after a hard day's work. Download free screensaver!
Features
Impressive quality
Beautiful village backgrounds
Multi scenes screensaver
Flexible screensaver settings
Natural and realistic animals and insects
Nature sounds
Fits any screen resolution
For any Windows OS
Free Screensaver!
System Requirements
Pentium III 900 Mhz or higher
128 Mb Video Memory
25 Mb of free hdd space
Windows 95/98/NT/2000/XP/Vista/7/8/10
Village Idyll Screenshots (Click screenshot to enlarge)
Village Idyll Video (Click video to play)
File size: 12.03 Mb
Top Screensavers
Recommended Screensavers
Screensavers Categories. Browse and Download Free Screensavers