Rating:
4.5

based on

292

votes
Rate it:
Christmas Dream Screensaver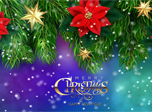 Christmas holiday is one of the most anticipated holidays of the year. People all over the world celebrate it with families and friends. Decorate your computer with free Christmas Dream Screensaver. You will see animated Christmas scene with all necessary attributes. Christmas tree with branch needles is at the center of scene. It is decorated with yellow stars and red flowers. At the background there is sky and falling snowflakes. It helps to create atmosphere of holiday. And of course greeting inscription at the bottom wishes you Happy Christmas! Screensaver is compatible with HD and 4K monitors and works on any desktop Windows operating system. Download free holiday screensaver today!
Features
Christmas scene animation
Christmas tree, tree decorations, night sky, falling snowflakes
Fits any screen resolution
For any desktop Windows OS
Compact size and fast installation
Absolutely free Christmas Holiday Screensaver!
System Requirements
Pentium III 900 Mhz or higher
256 Mb Video Memory
15 Mb of free hdd space
Windows XP/Vista/7/8/10
Christmas Dream Screenshots (Click screenshot to enlarge)
Christmas Dream Video (Click video to play)
File size: 6.41 Mb
Top Screensavers
Recommended Screensavers
Screensavers Categories. Browse and Download Free Screensavers