Rating:
4.4

based on

104

votes
Rate it:
Christmas Evening Screensaver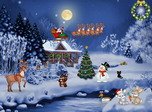 What could be more beautiful than the quiet Christmas Eve in the woods. Install our new free Christmas screensaver and enjoy wonderful Christmas and New Year holidays. Everybody loves these holidays regardless of age, faith, skin color or place of residence. There is real magic in these days. Santa Claus is down the heaven with a huge bag of gifts, animated snowman greets forest inhabitants with the upcoming holidays, Christmas tree is lit with colored lights. And the most important - our wishes come true! Santa Claus will not forget anyone and he has a special gift for everyone. And of course charming Christmas melody at the background of the screensaver scene. Happy New Year and Christmas!
Features
Impressive quality
Flexible screensaver settings
Beautiful picture of forest glade
Realistic effects and animation
Natural and realistic forest inhabitants
Nice Christmas music
Analog clock
Fits any screen resolution
For any Windows OS
Absolutely free Christmas screensaver!
System Requirements
Pentium III 800 Mhz or higher
64 Mb Video Memory
12 Mb of free hdd space
Windows 95/98/NT/2000/XP/Vista/7/8/10
Christmas Evening Screenshots (Click screenshot to enlarge)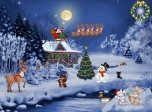 Christmas Evening Video (Click video to play)
File size: 56.21 Mb
Top Screensavers
Recommended Screensavers
Screensavers Categories. Browse and Download Free Screensavers