Rating:
4.5

based on

90

votes
Rate it:
Christmas Symphony Screensaver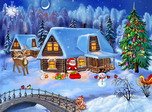 Christmas and New Year noon is very soon! It is time to update your computer desktop with our new free Christmas screensaver. Christmas Symphony screensaver is very remarkable application that will make your desktop unique. Every scene of this screensaver consists of a lot of realistic and well animated Christmas characters and decorations: Santa, Snowman, dressed Christmas fir, snowflakes falling from the sky, and others! The lights of snow-covered houses lit up and off today. Bear, deer, small birds and other animals walk on your monitor screen. And, of course, nice Christmas music and sounds will surely surprise you. Real Christmas Symphony! We hope your wishes will come true with this free Christmas screensaver.
Features
Impressive quality
Multi scenes screensaver
Flexible screensaver settings
Natural and realistic Christmas characters
Nice music
Windows Vista/7/8/10 compatible
Fits any screen resolution
Absolutely free Christmas screensaver!
System Requirements
Pentium III 800 Mhz or higher
64 Mb Video Memory
15 Mb of free hdd space
Windows 95/98/NT/2000/XP/Vista/7/8/10
Christmas Symphony Screenshots (Click screenshot to enlarge)
Christmas Symphony Video (Click video to play)
File size: 57.59 Mb
Top Screensavers
Recommended Screensavers
Screensavers Categories. Browse and Download Free Screensavers