Rating:
4.4

based on

67

votes
Rate it:
Christmas Fantasy Screensaver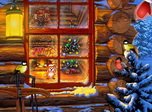 All people are looking forward to the onset of the Christmas holidays. By decorating their homes inside and outside with all the necessary attributes - ribbons, toys, colored lights, garlands and fir branches. Christmas will come to you at any time of year, even in summer, when you download this wonderful screensaver and decorate it to your computer monitor. Our new animated holiday screensaver consists of four stages, gradually changing each other to the accompaniment of great Christmas melodies. Christmas Fantasy holiday screensaver gives you an ultimate chance to watch Santa Claus, Snowmen and lots of funny animals hastily making arrangements for Christmas celebration. Free holiday screensaver takes you on a wonderful journey to the magic woodland. It will help you to experience the magic and charm of this wonderful holiday!
Features
Impressive quality
Flexible screensaver settings
Natural and realistic characters
Nice music
Analog clock
Fits any screen resolution
For any Windows OS
Holiday screensaver!
System Requirements
Pentium III 900 Mhz or higher
128 Mb Video Memory
25 Mb of free hdd space
Windows 95/98/NT/2000/XP/Vista/7/8/10
Christmas Fantasy Screenshots (Click screenshot to enlarge)
Christmas Fantasy Video (Click video to play)
File size: 60.1 Mb
Top Screensavers
Recommended Screensavers
Screensavers Categories. Browse and Download Free Screensavers