Rating:
4.5

based on

93

votes
Rate it:
Deep In Space Screensaver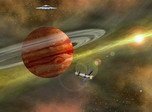 Unexplored depths of far away space has always excited the imagination of mankind. What is beyond the solar system? Are there any other civilizations? Install free space screensaver and make a wonderful trip into deep space on our spaceship. Unknown planets, intelligent inhabitants of the universe, asteroids and fireballs, spaceships and comet will impress you. Download and install free screensaver! Bright up your desktop with free animated screensavers! Choose from various screensaver categories: 3D, Nature, Holidays, Animated, Special effects, Clock screensavers, etc.
Features
Impressive quality
Multiscenes screensaver
Flexible screensaver settings
Natural and realistic cosmic objects
Nice music
Analog clock
Fits any screen resolution
For any Windows OS
Absolutely free space screensaver!
System Requirements
Pentium III 800 Mhz or higher
64 Mb Video Memory
40 Mb of free hdd space
Windows 95/98/NT/2000/XP/Vista/7/8/10
Deep In Space Screenshots (Click screenshot to enlarge)
Deep In Space Video (Click video to play)
File size: 75.89 Mb
Top Screensavers
Recommended Screensavers
Screensavers Categories. Browse and Download Free Screensavers