Rating:
4.6

based on

463

votes
Rate it:
Festive Christmas Screensaver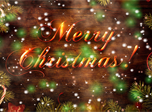 The winter Christmas Holiday is one of the most anticipated and brightest holidays of the year! It is celebrated in many countries around the world. So we are always glad to present you a free animated Christmas Screensaver. People are glad to decorate Christmas tree with toys, colorful balls, garlands, sparkles, tinsel and confetti. All these holiday attributes you will see in Festive Christmas Screensaver. Screensaver consists of one animated scene. At the center of the scene you will see a beautiful holiday inscription, along which the glare of lights runs. This inscription is framed by Christmas tree branches decorated with Christmas toys. Snowflakes are falling and sun lights are shimmering at the foreground. Free screensaver will create a festive mood for the whole family. This screensaver is compatible with any screen resolution and works on any version of desktop Windows OS. Download Festive Christmas Screensaver absolutely free!
Features
Animated Christmas Scene
Toys, colorful balls, garlands, sparkles, tinsel and confetti decoration
Fits any screen resolution
For any desktop Windows OS
Compact size and fast installation
Absolutely Free Christmas Screensaver Download!
System Requirements
Pentium III 900 Mhz or higher
256 Mb Video Memory
15 Mb of free hdd space
Windows XP/Vista/7/8/10/11
Festive Christmas Screenshots (Click screenshot to enlarge)
Festive Christmas Video (Click video to play)
File size: 8.96 Mb
Top Screensavers
Recommended Screensavers
Screensavers Categories. Browse and Download Free Screensavers