Rating:
4.4

based on

75

votes
Rate it:
Garden In The Depth Screensaver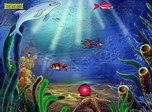 And this screensaver will definetly attract underwater world lovers. This is true underwater garden! But you will not find trees, flowers, butterflies, grass and other flora. Lovely coralls, algae, tropical fish, dolphins, loggerhead turtles, sea urchins and stars will take their place! Underwater garden is not less splendid and attractive! Install this graphic free screensaver with digital clock, natural underwater sounds and a lot of settings. Forget your everyday problems and relax with new garden in the depth screensaver!
Features
Impressive quality
Multiscenes screensaver
Flexible screensaver settings
Natural and realistic underwater inhabitants
Underwater sounds
Digital clock
Vista compatible
For any screen resolution
Absolutely free aquarium screensaver!
System Requirements
Pentium III 800 Mhz or higher
64 Mb Video Memory
10 Mb of free hdd space
Windows 95/98/NT/2000/XP/Vista/7/8/10
Garden In The Depth Screenshots (Click screenshot to enlarge)
Garden In The Depth Video (Click video to play)
File size: 55.61 Mb
Top Screensavers
Recommended Screensavers
Screensavers Categories. Browse and Download Free Screensavers