Rating:
4.5

based on

100

votes
Rate it:
Rocks River Screensaver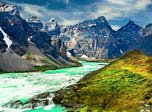 Fresh mountain air, river with crystal clear water. All this you will find in our new screensaver Rocks River. You will have stunning views - mountain river and high rocky mountains. You seem to get there. Free river screensaver will surprise you with its quality and realistic graphics. Take a break from everyday work. Treat yourself! Install Rocks River on your desktop computer and enjoy it. All our screensavers are completely free. Download free screensavers now!
Features
Impressive quality
Realistic river animation
Fits any screen resolution
For any Windows OS
Compact size and fast installation
Absolutely free river screensaver!
System Requirements
Pentium III 900 Mhz or higher
256 Mb Video Memory
30 Mb of free hdd space
Windows 95/98/NT/2000/XP/Vista/7/8/10
Rocks River Screenshots (Click screenshot to enlarge)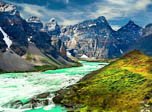 Rocks River Video (Click video to play)
File size: 70.5 Mb
Top Screensavers
Recommended Screensavers
Screensavers Categories. Browse and Download Free Screensavers