Rating:
4.4

based on

82

votes
Rate it:
Graveyard Party Screensaver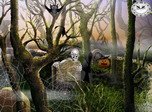 FullScreensavers offers you a new realistic screensaver on Halloween. This holiday is both scary and fun. It is loved by adults and children. They dress up in the day of the characters of the other world and participate in a variety of fun carnival performances and demonstrations. Transform your monitor into a party at the cemetery, arranged by ghosts, witches, skeletons, vampires and other evil spirits. Free halloween screensaver is accompanied by natural sounds and has four superb and realistic animated scenes with analog clock. Graveyard Party Screensaver is wonderful and exciting adventure with typical Halloween characters. Download and install our free screensaver that will undoubtedly give your desktop a unique color and make you feel the atmosphere of the festival.
Features
Impressive quality
Multiscenes screensaver
Flexible screensaver settings
Natural and realistic characters
Natural and realistic sounds
Analog clock
Fits any screen resolution
For any Windows OS
Absolutely free halloween screensavers!
System Requirements
Pentium III 900 Mhz or higher
128 Mb Video Memory
20 Mb of free hdd space
Windows 95/98/NT/2000/XP/Vista/7/8/10
Graveyard Party Screenshots (Click screenshot to enlarge)
Graveyard Party Video (Click video to play)
File size: 58.17 Mb
Top Screensavers
Recommended Screensavers
Screensavers Categories. Browse and Download Free Screensavers