Rating:
4.3

based on

43

votes
Rate it:
Happy Pumpkin Screensaver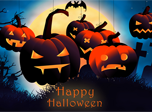 It is time to celebrate upcoming Halloween Holiday. One of the best ways to do this is to download and install free Halloween screensaver. Make some fun and joy for your desktop PC! Let it celebrate this holiday, too. You will see Halloween scene with animated characters: bats, big dark trees, gravestones and moon. And of course you will find the main Halloween attribute - pumpkin! But not only one pumkin - but several pumpkins with different faces. They are hanging on a string, swinging left and right under the wind. Some of them smile, some of them feel sad... What pumpkin do you like most of all? Surprise your friends, colleagues, relatives and kids with this free Happy Pumpkin Screensaver. It installs just in few seconds and compatible with any screen resolution. Happy Halloween!
Features
Impressive scene animation
Bats, graves, moon, pumpkin and trees characters
Fits any screen resolution
For any desktop Windows OS
Compact size and fast installation
Absolutely free Halloween Screensaver!
System Requirements
Pentium III 900 Mhz or higher
256 Mb Video Memory
15 Mb of free hdd space
Windows XP/Vista/7/8/10
Happy Pumpkin Screenshots (Click screenshot to enlarge)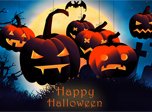 Happy Pumpkin Video (Click video to play)
File size: 57.83 Mb
Top Screensavers
Recommended Screensavers
Screensavers Categories. Browse and Download Free Screensavers