Rating:
4.6

based on

77

votes
Rate it:
Japanese Suite Screensaver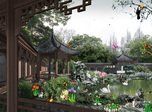 We present our new beautiful animated screensaver in oriental style. You will find rich variety of colorful butterflies, pets, birds, waterfowl pond inhabitants, Japanese and gorgeous flowers. Enjoy realistic effects of "living" water, natural sounds of nature and the charm of a Japanese garden with a gorgeous pond, without leaving your home! Install Japanese Suite colorful animated free screensaver with analog clock. Our screensaver is compatible with any screen resoution!
Features
Impressive quality
Natural sounds of the nature
Natural and realistic summer inhabitants
Flexible screensaver settings
Analog clock
Fits any screen resolution
For any Windows OS
Absolutely free screensaver!
System Requirements
Pentium III 900 Mhz or higher
256 Mb Video Memory
25 Mb of free hdd space
Windows 95/98/NT/2000/XP/Vista/7/8/10
Japanese Suite Screenshots (Click screenshot to enlarge)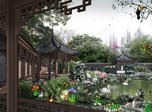 Japanese Suite Video (Click video to play)
File size: 8.24 Mb
Top Screensavers
Recommended Screensavers
Screensavers Categories. Browse and Download Free Screensavers