Rating:
4.5

based on

87

votes
Rate it:
Mysterious World Screensaver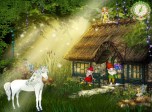 Mysterious World Screensaver with its fabulous inhabitants undoubtedly will decorate the desktop of your computer and help you to relax after a hard day's work. This colorful, fun screensaver will please both adults and children, and especially fans of the genre of "fantasy". Fantastic characters - dwarfs and trolls, unicorns and elves, and other unusual creatures inhabit mysterious forest scenery. The will make adults back to their childhood, well, children will replace a fairy tale. Install free nature animated screensaver on your computer and make a fascinating journey into the fantastic world. You will enjoy this colorful screensaver with its animated inhabitants and beautifully traced scenes.
Features
Impressive quality
Beautiful backgrounds of fantastic forest
Flexible screensaver settings
Multiscenes screensaver
Natural and realistic characters
Nature sounds and nice music
Fits any screen resolution
For any Windows OS
Free Nature Screensavers!
System Requirements
Pentium III 900 Mhz or higher
256 Mb Video Memory
35 Mb of free hdd space
Windows 95/98/NT/2000/XP/Vista/7/8/10
Mysterious World Screenshots (Click screenshot to enlarge)
Mysterious World Video (Click video to play)
File size: 62.18 Mb
Top Screensavers
Recommended Screensavers
Screensavers Categories. Browse and Download Free Screensavers