Rating:
4.6

based on

90

votes
Rate it:
Pumpkin Mystery 3D Screensaver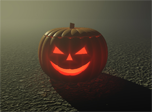 What's about free Halloween 3D screensaver for your desktop PC? Are you ready for a real 3D Halloween holiday scene animation? If yes, please sit down and enjoy! Alone pumpkin was walking around to find it's owner, but it is lost... So it stands on the wet asphalt, burning red, yellow and white fire inside. Weather is cold and rainy. One far away light in fog shines pumpkin and ground around it. Shadow moves as wind is blowing. Stand near it and observe how it looks at you, trying to scary. Pumpkin Mystery 3D screensaver will indeed impress you, your friends and kids! Download free screensaver and install it in just few seconds.
Features
Impressive 3D quality
Fog, shadow, reflections and light effects
Fits any screen resolution
For any desktop Windows OS
Compact size and fast installation
Absolutely free 3D Screensaver!
System Requirements
Pentium III 900 Mhz or higher
256 Mb Video Memory
15 Mb of free hdd space
Windows XP/Vista/7/8/10
OpenGL 2.0+
Pumpkin Mystery 3D Screenshots (Click screenshot to enlarge)
Pumpkin Mystery 3D Video (Click video to play)
File size: 2.8 Mb
Top Screensavers
Recommended Screensavers
Screensavers Categories. Browse and Download Free Screensavers