Rating:
4.4

based on

89

votes
Rate it:
Winter Fantasy 2 Screensaver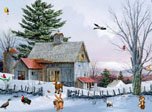 Winter Fantasy screensaver is a warm and friendly winter wish for a fun and happy winter season. In winter nature is painting for us, day after day, pictures of infinite beauty. The screensaver recreates those pictures digitally and shows them in a sequence. It'll calm you down, let you take a big breath of fresh winter air, listen to the beautiful music and feel the wind in your face as you walk your mind in the virtual winter forest. Bright up your desktop with free animated screensavers! Choose from various screensaver categories: 3D, Nature, Holidays, Animated, Special effects, Clock screensavers, etc. The screensaver is fully configurable to the user preferences. You can, for example, enable the music track, sound effects, use DirectX for faster animation, set the image size, and duration to show images. By default, the screensaver shows the clock which can also be disabled. You can even select your own music to be played during the playback of the screensaver. The pictures from the screensaver can be set as wallpapers, pre-viewed in the thumbnail mode, etc.
Features
Christmas scenery
Lovely animation
Funny animals and fairy creatures
Magical transformations
Flexible screensaver settings/ability to change animation speed
Festive music/ability to put your favourite music/clock
Winter screensaver!
System Requirements
Celeron 500 Mhz or higher
32 Mb Video Memory
10 Mb of free hdd space
Windows 95/98/NT/2000/XP/Vista/7/8/10
Winter Fantasy 2 Screenshots (Click screenshot to enlarge)
Winter Fantasy 2 Video (Click video to play)
File size: 4.13 Mb
Top Screensavers
Recommended Screensavers
Screensavers Categories. Browse and Download Free Screensavers