Rating:
4.6

based on

478

votes
Rate it:
Calm Sky Screensaver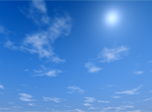 The ability to hover above the ground nowadays is maybe only demonstrated by the monks and yogis in Tibet and India. But you don't need to travel that far and spend your entire life learning how to levitate. You can just download free Calm Sky Screensaver and look at it while you meditate. 3D animated soothing screensaver will set you up for harmony and tranquility. Allow yourself to soar in the clouds, because you need it during a routinely difficult workdays! This realistic screensaver will immerse you in the blue sky and the fluffy clouds will protect you from the scorching sun. When you download Calm Sky Screensaver on your Windows desktop PC, you'll experience the calmness and weightlessness of the sky. Fly along with realistic screensaver for as long as you like! We do our best for you! Screensaver is compatible with any screen resolution and any modern version of Windows OS.
Features
Sky and clouds 3D animation
Fits any screen resolution
For any Windows OS
Compact size and fast installation
Sky Screensaver for Windows!
System Requirements
Pentium IV 2.2 GHz or higher
512 Mb Video Memory
15 Mb of free hdd space
Windows Vista/7/8/10/11
OpenGL 2.0+
Calm Sky Screenshots (Click screenshot to enlarge)
Calm Sky Video (Click video to play)
File size: 2.06 Mb
Top Screensavers
Recommended Screensavers
Screensavers Categories. Browse and Download Free Screensavers