Rating:
4.6

based on

358

votes
Rate it:
Neurons Galaxy Screensaver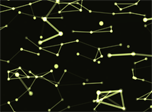 Very attractive abstract free 3D screensaver with special effects. Imagine that you are flying through space with dots. Dots randomly move, forming connections between each other. It reminds us neural network. Rounded dots are blinking and connections created and destroyed with fade transition effects. As time goes color scheme of screensaver and background is changing from white to red, blue, yellow and purple. Neurons Galaxy Screensaver is great way to meditate using your PC. You can imagine anything you want, when you look at this free screensaver. Relax after hard work, take a rest with Neurons Galaxy Screensaver. Screensaver requires powerful video card, so it is best for 4K monitors and modern computers. Feel free to download and install Neurons Galaxy Screensaver!
Features
Impressive neurons effects
Fits any screen resolution
For any modern desktop Windows OS
Compact size and fast installation
Absolutely Free Neurons Screensaver!
System Requirements
Pentium IV 2.0 Ghz or higher
512 Mb Video Memory
15 Mb of free hdd space
Windows Vista/7/8/10
Powerful video card
OpenGL 2.1+
Neurons Galaxy Screenshots (Click screenshot to enlarge)
Neurons Galaxy Video (Click video to play)
File size: 1.27 Mb
Top Screensavers
Recommended Screensavers
Screensavers Categories. Browse and Download Free Screensavers