Rating:
4.6

based on

69

votes
Rate it:
Halloween Card Screensaver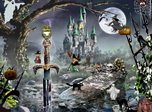 Halloween or All Saints Day is the most mystical holiday. It is celebrated when autumn turns into winter. When the harvested crop residues, and is to come a long cold winter, with tears the veil of life of all that is around. Romance ghostly afterlife unearthly mysteries of life characterize this celebration when merging worlds of the dead and the living. Life and death. Halloween Card Screensaver with its inhabitants, no doubt, will be very useful to decorate your computer's desktop in anticipation of the upcoming Halloween. Witches, bats, spiders, pumpkins, skulls, ghosts and mysterious mystical creatures - what a holiday of Halloween without them? Install this colorful free Halloween screensaver and get opportunity to observe the developments in this extraordinary mystic night right on your computer monitor.
Features
Impressive quality
Natural and realistic Halloween characters
Natural halloween sounds
Flexible screensaver settings
Analog clock
Fits any screen resolution
For any Windows OS
Free Halloween Screensavers!
System Requirements
Pentium III 900 Mhz or higher
256 Mb Video Memory
35 Mb of free hdd space
Windows 95/98/NT/2000/XP/Vista/7/8/10
Halloween Card Screenshots (Click screenshot to enlarge)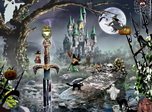 Halloween Card Video (Click video to play)
File size: 4.29 Mb
Top Screensavers
Recommended Screensavers
Screensavers Categories. Browse and Download Free Screensavers