Rating:
4.3

based on

76

votes
Rate it:
Lunar Solitude Screensaver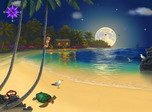 Lunar Solitude Screensaver will bring you to tropical islands, to warm tropical seas. This screensaver will decorate your desktop with unique charm of the tropical night and its inhabitants: seagulls, tropical birds, giant sea turtle, crab, monkey, climbing on the trunk of palm trees, dolphins, jumping out of water and other. Take a wonderful trip to a coral island, without leaving home. Download free moon screensaver! Bright up your desktop with free animated screensavers! Choose from various screensaver categories: 3D, Nature, Holidays, Animated, Special effects, Clock screensavers, etc.
Features
Impressive quality
Flexible screensaver settings
Beautiful tropical picture
Realistic water effects
Natural and realistic animals and insects
Analog clock
Fits any screen resolution
For any Windows OS
Absolutely free moon screensaver!
System Requirements
Pentium III 800 Mhz or higher
64 Mb Video Memory
10 Mb of free hdd space
Windows 95/98/NT/2000/XP/Vista/7/8/10
Lunar Solitude Screenshots (Click screenshot to enlarge)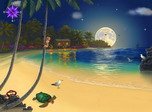 Lunar Solitude Video (Click video to play)
File size: 2.69 Mb
Top Screensavers
Recommended Screensavers
Screensavers Categories. Browse and Download Free Screensavers