Rating:
4.6

based on

93

votes
Rate it:
Neon Time Screensaver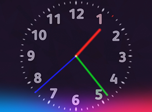 Neon Time analog clock screensaver is a vibrant and eye-catching addition to any desktop or device. Featuring a sleek design, this screensaver consists of three neon arrows in red, green, and blue, indicating the hours, minutes, and seconds respectively. The bright and bold colors of the arrows are set against a black background, creating a stunning contrast that is both modern and timeless. The red hour arrow is the largest of the three and moves slowly around the clock face, indicating the current hour. The green minute arrow is slightly smaller and moves at a faster pace, indicating the minutes that have passed since the start of the hour. Finally, the blue seconds arrow is the smallest and moves rapidly around the clock face, indicating the current second. Neon Time Screensaver is perfect for those who want a stylish and functional addition to their desktop or device. It is easy to install and runs smoothly, providing an accurate and visually stunning way to keep track of time. Whether you are at work, at home, or simply relaxing, this screensaver will add a touch of class and style to your digital experience. Screensaver works on any screen resolution, including HD and 4K. And compatible with any desktop Windows Operating System.
Features
Analog clock animation
Light effects
Fits any screen resolution
For any Windows OS
Compact size and fast installation
Free Neon Clock Screensaver for Windows!
System Requirements
Pentium IV 2.2 GHz or higher
512 Mb Video Memory
30 Mb of free hdd space
Windows Vista/7/8/10/11
OpenGL 2.0+
Neon Time Screenshots (Click screenshot to enlarge)
Neon Time Video (Click video to play)
File size: 3.86 Mb
Top Screensavers
Recommended Screensavers
Screensavers Categories. Browse and Download Free Screensavers